Detail Lowongan Pekerjaan
Engineering Assistant Manager
Lowongan Dibuka Mulai :
17 November 2020 - 30 November 2020
Total Pendaftar :
0 Pelamar
Total Panggilan :
0 Pelamar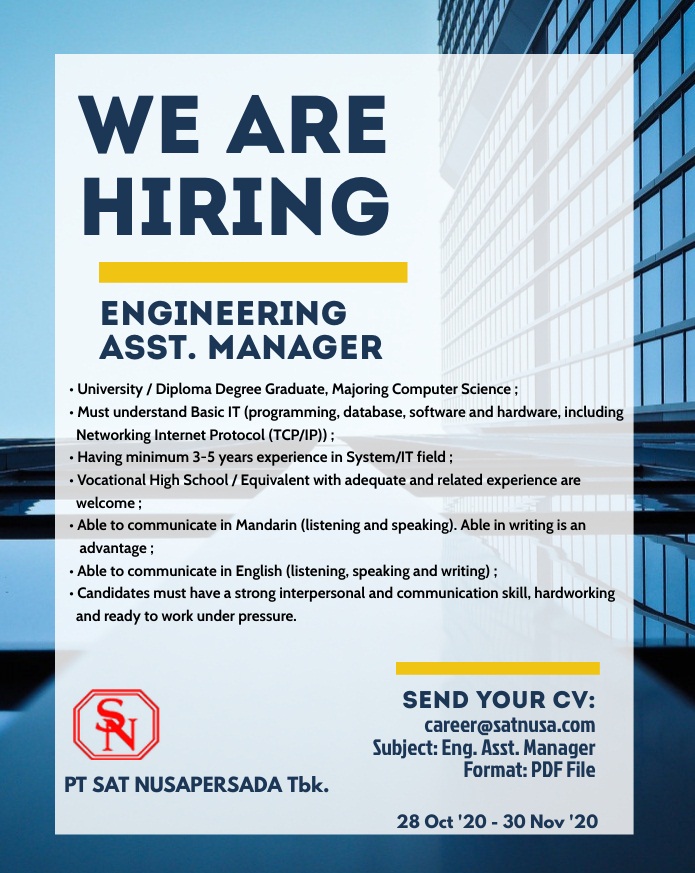 PT Sat Nusapersada Tbk, an Indonesia's public-listed, leading high technology electronics manufacture company based in Batam, Riau Islands, which has been producing electronics with the famous brands ranging from Xiaomi, Asus, Pegatron, etc. and have been shipped to Asia, Europe, and America.
Syarat Umum :
PT Sat Nusapersada Tbk (PTSN), the leading high technology electronic manufacturer based in Batam, Riau Islands, is currently looking for:
ENGINEERING ASSISTANT MANAGER

Placement: Batam, Riau Islands, Indonesia

Qualifications:
- University/Diploma degree graduate, majoring IT/Computer Science;
- Must understand basic IT (programming, database, software, and hardware, including Networking Internet Protocol (TCP/IP));
- Having minimum 3-5 years experience in system/IT field;
- Should be able to communicate in Mandarin and English, both in listening, speaking, reading, and writing.
Syarat Khusus :
Kindly send your newest CV and supporting documents in PDF format to career@satnusa.com with the subject: Name_Eng Asst Manager_Caltex.
Only shortlisted candidates will be processed to next stage.

Thank you!
Minimal Pendidikan :
Diploma
Pengalaman Kerja :
3 Tahun
Jumlah yang Dibutuhkan :
1 Orang
Status Pekerjaan :
Fulltime
Penempatan :
Batam, Riau Islands